Go to Gear Guides
Gear Guides
Gear guides, product tests, best for your buck, what gear in what situation, gear history and so on.
Go to Backyard Spots
Backyard Spots
Because we do not need to go to Chamonix for doing alpinism, we can find pillows outside of Japan and there is good crack climbing way closer than in Utah.
Go to Adventure Guides
Adventure Guides
Guides and tips for trips with a strong adventure taste. You will get on the mud. That's the whole point, actually, but at least do it with some folk knowledge beforehand.
Go to Meet the locals
Meet the locals
Getting to meet the real badass outdoor men, the ones that keep us safe, the ones that know all the secrets about our environment and the ones that have most fun.
Go to Progressing
Progressing
Training, technique and lifestyle tips that will help us push further our game.
Welcome to On the belay
With Carlos Abraldes
Before roping up with me;
I have worked as the head of purchases of climbing and alpinism for EpicTV in Chamonix and I've had the opportunity to work hand by hand with the leading manufacturers in the industry. I have worked two years in Norway as an outdoor guide and i've spent quite some time in South America and Iceland. Elsewhere i'm generally around Northern Spain, where i am from, on the classic weekend warrior slash wanna be dirt bag life plan. Don't get me wrong, i'm a pretty average outdoor man, so probably most of the things I will write about will be useful for the average guy that just wants to spend more time outside and progress.
Climbing and Alpinism. EpicTV. 2015-2016

Outdoor Guide
Activities
Find your articles per activities
Latest news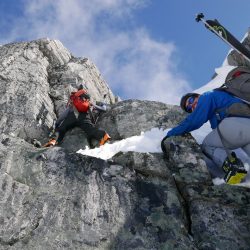 After the longest and snowiest winter I could remember in addition to the great arctic ski trip,  I was almost excited for hanging my skis until next year and rack all my trad gear for heading to the Norwegian Fjords and it's oceans of granite. I guess I hadn't figured out that not even on my second day here, Jens-Petter was already proposing me a last great expedition for ending the season properly. Well, I'm a simple man, so actually it didn't took long before I was in. Read more AboutThe Tafjord Haute Route: exploration ski where eastern Norway meets the west.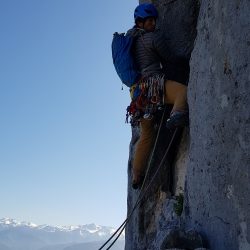 There had been now quite some time since I had in mind to do a powerful activity in one of the oceans of limestone of the Picos de Europa. I had a few routes in mind in the Naranjo, although it's quite a complicated mountain. According to the schemes, it looks like one way or another you should probably top out, however, you hear quite often those stories about really strong rope parties having to turn back poorly after quite some drama. Ok, having some desperate fighting is always in the equation; there are not that many people that can afford to top such monsters on comfort, however, been able to choose, I rather take a bit less spicy for the beginning of the season.
Read more AboutCueto Agero, South spur (300m; 6A+). Adventure climbing in la Hermida.
Previous
Next